Book your Pacific Ocean sport fishing charters in San Diego, California with Captain Joe onboard the Sea Star.
Sea Star Charters offers private sport fishing trips, burials at sea, marine educational programs,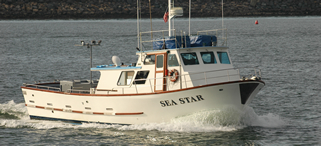 and sea life adventures. We are located in Oceanside, CA and our well trained crew is ready to make sure your time on the ocean is memorable. We exclusively offer private sport fishing charters in Oceanside, which means, only your group comes on board. Within close distance to San Diego, we are your sport fishing charters in San Diego.
Sport Fishing charter near San Diego and deep sea fishing in Oceanside reservations can be simply made by calling us directly at 760-966-0111!
Embark on a private fun filled family fishing charter from nearby Oceanside Harbor. We specialize in Sport Fishing and Sea Life Adventures. Our private fishing charters are solely limited to your group members. We do not offer open party trips (i.e. we do not sell individual tickets). The Sea Life Adventures are fun and exciting! You may be able to view whales, dolphins, sea lions, seals, and a variety of marine birds. The fishing crew is child friendly, patient and knowledgeable. Call (760) 966-0111 today to reserve your charter sport fishing trip in Oceanside, it will be an adventure!