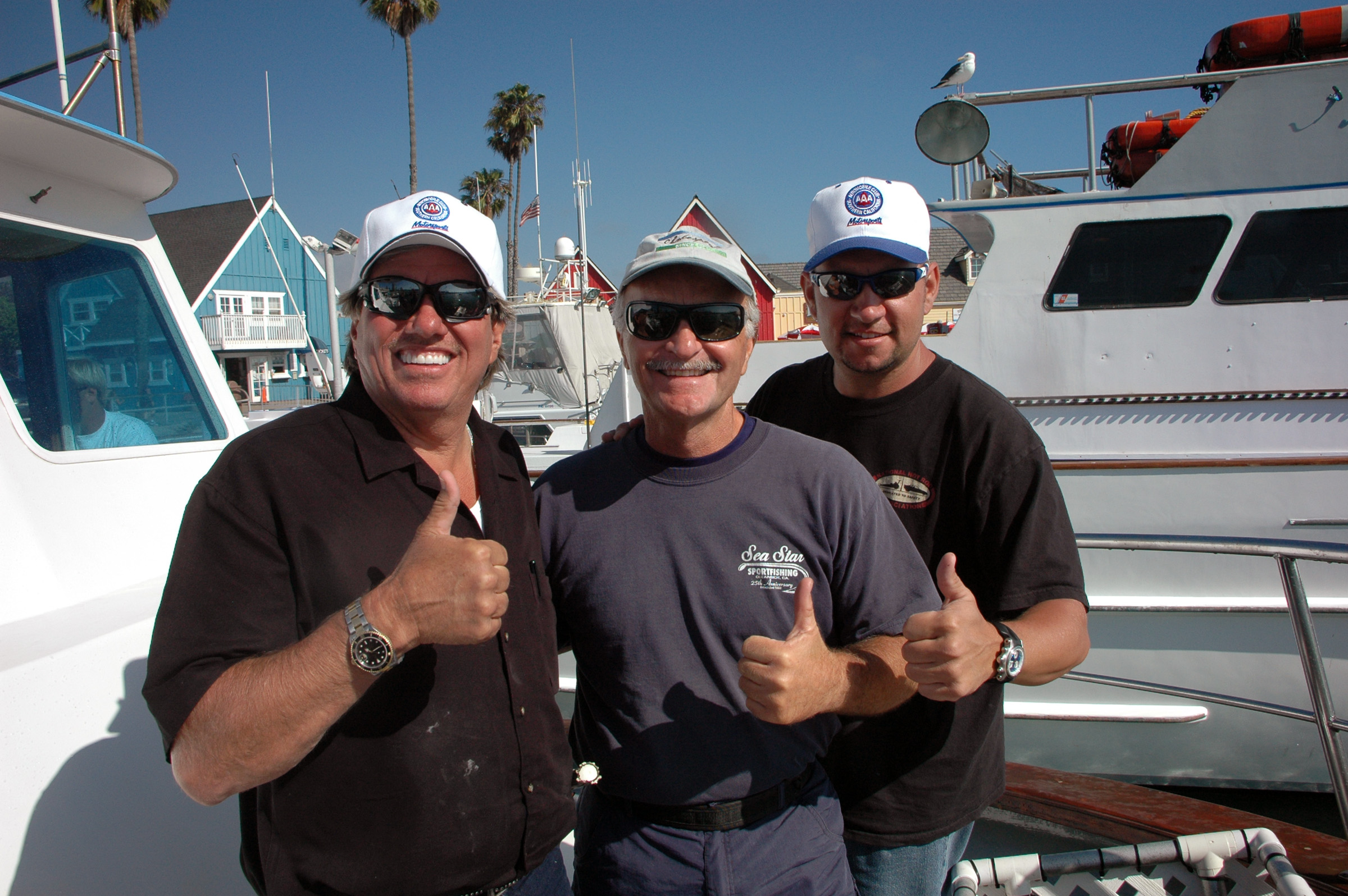 Read about Sea Star Charters, its crew, and our San Diego private sport fishing charters customer reviews & testimonials.
For years now, Sea Star Charters has taken out thousands of people for San Diego private sport fishing charters. Many of our customers have written us describing what wonderful trips they have had with us. We have compiled just a few of our Sea Star sport fishing reviews for your reading pleasure. If you would like to submit your Sea Star Sport Fishing Review or Testimonial simply email us today.
We offer private group charters for sport fishing, whale watching and floating marine science labs. We also offer burials at sea. For more information on Sea Star sport fishing charters, please give us a call on our reservation line at 760-966-0111! Thanks for visiting and best fishes!
Below are some of our customers letters for your reading pleasure.
---
The Beldt Family – Sea Star Sport Fishing Review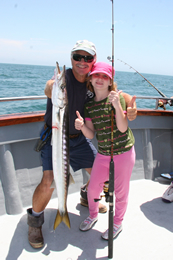 I would highly recommend chartering the Sea Star if you are looking to go deep sea fishing out of Southern California. We live in Arizona but try to make it to the San Diego every chance we get – one big reason is we can't wait to go deep sea fishing! A couple of years ago we contacted Captain Joe and arranged our very first charter to go deep sea fishing. Ever since that trip – we are "addicted" to our family fishing trips and go several times a year. Somehow Captain Joe knows exactly where to go to find the fish. We catch way more than we could ever use and we love bringing back some extra for our neighbors. It would not be uncommon to catch over 100 fish per trip. Really – NOT a fish story!
The crew is amazing! Their service, knowledge, and teaching is what I believe is the true difference when chartering the Sea Star. They taught our family (including my 6 years old daughter and my two teenage sons) how to fish – from choosing the best bait and baiting the hook to setting the hook and reeling them in. They are amazing working with and teaching young children! And best of all, they gave them the gift of "loving to fish!"
Our family deep sea fishing trips with Captain Joe and his crew are some of our most cherished family memories we have. It is one thing our entire family loves to do and the pictures we take and the stories we tell prove it. It is worth every penny – if you are even considering giving it a try – DO IT! You won't regret it. Just don't take our spot on the calendar…
The Beldt Family – Written by Cindy Beldt
---
Executive Director – Magdalena Ecke Family YMCA
The Sea Star and Magdalena Ecke Family YMCA have been co-hosting the YMCA fishing camp program for the past 18 years. We are very proud and happy to continue supporting such a popular and healthy outdoor youth program.
We are pleased to donate to this year's Annual Campaign with an in-kind donation of $6,580.  This represents the total discount on all trip costs and services provided by Sea Star Sportfishing for the four fishing camp trips onboard the Sea Star in 2014.
Susan Hight, Executive Director of the Magdalena Ecke Family YMCA and Sheila Wirick, Capital Development Chair wrote Captain Joe a thank you letter – click here to view the letter.
---
D. Leon Sims – Sea Star Sport Fishing Review
Dear Captain Joe,
Our charters on the Sea Star have become a tradition with our family and friends. I don't believe a cleaner boat exists on our coast and the crew is great. Where else can you find rail service from the galley? Looking forward to our next trip.
D. Leon Sims
Placentia, CA
---
Catherine Caudillo – Sea Star Sport Fishing Review
Hi Captain Joe and crew!
I had one of the best experiences of my life so far, and (yes, lol, believe it or not, I'm 45).:)  I was a little nervous at first, being my first time out on the ocean, but you and your crew made me very comfortable. I love the ocean and I love fishing out there.  I'm sore, but it's a great sore. You and your team were very supportive, VERY KNOWLEDGEABLE and fun!  This may sound geeky, but "I'm hooked"!!!!!!!  I have to reel in that big one, even if it is the Black Sea Bass and I have to throw him back, lol.  I'm looking forward to my fish fry, tomorrow!
Thanks, again, Captain Joe, James, Steve and Dutch!  I'll be back very soon!
Catherine Caudillo
---
Gary E. Gilley – Sea Star Sport Fishing Review
Dear Captain Joe,
I wanted to take this opportunity to tell you how much our company enjoyed the four fishing trips we scheduled on the Sea Star last year. As you know, we took 20 or 30 customers on each trip and you and your crew did a great job helping us with any of our needs. We are always looking for good promotions for our customers and we've found the best one is to take them fishing on the Sea Star. I'll be contacting you real soon to arrange future charter dates.
Gary E. Gilley
San Diego Auto Auction, Oceanside, CA
---
Michael O'Rourke – Sea Star Sport Fishing Review
I always book the Sea Star for my charter trips because Joe and his crew understand the meaning of "customer satisfaction." The boat is exceptionally well maintained with great food, but most importantly, the crew is knowledgeable, friendly, and helpful. I really appreciate the time and patience they provide for the novice fishermen. Best of all, you catch fish aboard the Sea Star because Captain Joe knows where they are and how to get them!
Michael O'Rourke
Phoenix, AZ
---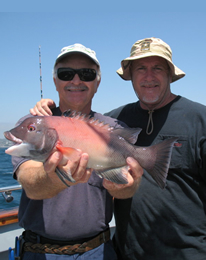 David M Thomas – Sea Star Sport Fishing Review (April, 2010)
Dear Captain Joe,
I wanted to express my sincere gratitude for the excellent service provided by you and the crew of the Sea Star throughout the years. You run an absolutely top notch operation and the Sea Star is an outstanding vessel for both private sport fishing charters and ocean memorial services.
After nearly 50 years of salt water fishing off Southern California, I can truly say there is no finer charter boat operation available in terms of professional treatment, work ethic and personal attention to giving your customers a fantastic experience on the water. Thank you again for all the great Sea Star memories and I look forward to fishing with you and your fine crew soon! See the August 22, 2009 "Anglers in the Son" Calvary Chapel sport fishing gallery here.
David M Thomas
"Anglers in the Son" Oceanside, CA
---
We have a lot of great reviews and if you want to submit one directly to us or online at Yelp please feel free as others find this information useful in choosing the right sport fishing charter boat and crew.
Timothy Potter
2021-04-27
Our family of 6 went on a 3 quarter day fishing trip. Captain Joe and Kayne is highly recommended for integrity and commendable interaction during the whole trip. Their knowledge and expertise to all types of fish and maneuverability around weather/ocean conditions was superb. Captain Joe was able to improvise and determine the travel of fish for a total count of 46 fish caught with 6 people on board. Price is great for their 6 pack deal. I highly recommend exceeding the 5 statler rating. Thank you! Oh, and they follow strict compliance and briefings with the Covid 19 mandate.
Josefino Bernardo
2020-11-16
Looking forward fishing with you nwxt year. Thanks Captain Joe!?
Had great day great people would love to go again
We've gone out twice (2015 and 2019) with Captain Joe and his crew and we couldn't be more pleased with both experiences. He and his team are great about making it memorable. Our latest trip we took the entire family and he was attentive and helpful. We saw a pod of dolphins and he got us in a position to be able to observe them as close as possible. Our kids were thrilled. We take a trip to Oceanside every four years and Sea Star Charters will be in our plans.
Captain Justin and Mike were great. Our family comes to Oceanside every year and we have done other fishing boats in the past. Sea Star is the best and they treat you like family. They have a true love of fishing and it shows in their attention to details and the friendliness. We did the half day charter for our family of 10 and it was one of the best experiences we've had in Oceanside. I recommend them to everyone. Thank you again Justin & Mike.
C&V Jennifer M.
2019-03-28
Captain Joe is the BESTEST!! This is a super fun day out for the kids. Captain Joe and his crew go over safety. It's a very clean safe boat. Has bathrooms onboard. Captain Joe is a great teacher and has wonderful props and hands on experiences to teach the kids about Sea Life including birds, sea lions, whales, and conservation. The kids get to identify and view plankto from a drop of water. It is put on a glass slide under a microscope and viewed on a large screen. We have done both trips- the one in Fall is a hands on experience with plankton and small sea life. The trip in spring is whale, dolphin watching. We look forward to these two trips each year. V-
Captain Joe and crew were amazing. They took 8 of us out. They were on it. We lost count of how many fish we caught. At some points it was as fast as we could get bait on the line. Thanks again guys.
This was such a fun excursion & not just for the kids. It was educational & being on the water is calming. Thanks for the tour.
Captain Joe took us out this morning to scatter my father's ashes. He helped me figure out details, set me up with a florist, and just really was very helpful throughout the entire process. He said some beautiful words as well. Thank you Captain Joe for everything. You made a hard day just a little easier.