The large swells off the Southern California coast can be deadly for surfers, kayakers, and fishermen alike.  However, when the swells calm down, they bring life to California's inshore sportfishing grounds.
The large storm to the north of Oceanside produced very large waves this past weekend.  When this happened, upwelling occurred.  Upwelling is when the warmer water at the surface "turns over" and is mixed with the much colder water below the thermocline.  In the immediate future, this means the surface fish like calico bass wont be as active.  In the long run, the nutrient rich cold water will help our coastal ecosystem blossom into a lively environment just in time for the summer fishing season.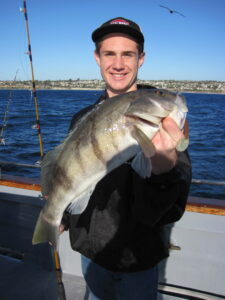 The timing couldn't have been better.  Lyall Belquist and other researchers at UCSD's Scripps Institute of Oceanography are tagging bass along San Diego County's coast improving our understanding of the status of local fish populations, and promoting the long-term sustainability of our fisheries.  You can learn more about their research and how to get involved by clicking http://www.cooperativefishtagging.org/.
We hope the Sea Star can tag and contribute to this research opportunity.  We do not know the effects of the newly developed Marine Protected Area's.  The Department of Fish and Wildlife never took population counts of the local fish in the MPA's which means we will not know if they are working as intended.  Mr. Belquist's research will help determine whether the tagged fish are moving out of the MPA, or staying and breeding.
The upwelling may seem bad for fishing at the moment, but come summer, the active fish will be living in a nutrient rich ecosystem.